When someone invites you to their wedding that is going to be a very frustrating moment for you. This is because you get worried about what to wear to the wedding and picking the one which suits your size is also going to be the daunting task for you. The specialty of this generation wedding is the theme, most of the peoples getting married used to prefer any of the themes for their wedding and ask their guests to dress relevant to their wedding. In this case, if your friend has planned to have the Gatsby themed wedding you have to wear the attire relevant to it.
When you are confused about what to wear to a great Gatsby themed wedding, there is a lot to wear. If you don't have an idea about you can get help from the stylist who can help you in choosing some of the best Gatsby wedding party outfit. Even though there are hundreds of wedding theme Gatsby is one of the most popular wedding themes and always stand out of ordinary wedding theme.
Some of the Gatsby themed wedding guest attire are shared here that can help you in deciding your attire;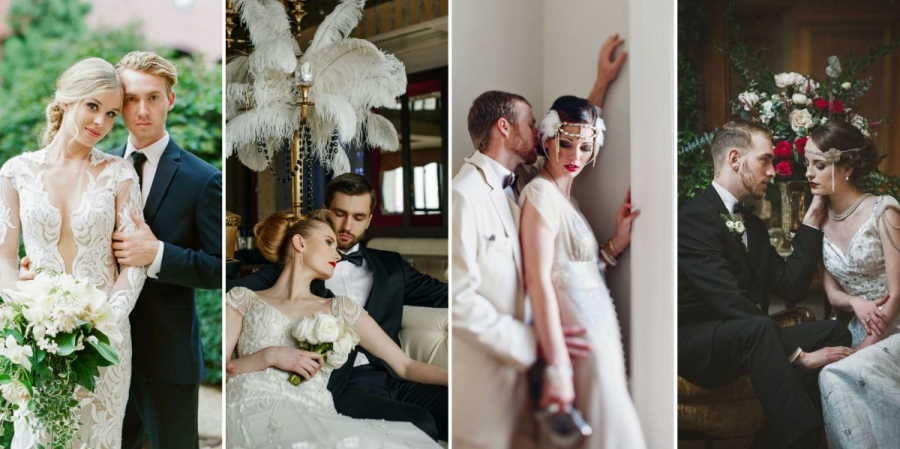 Flapper
The flapper is one kind of attire that can be preferred by the young girls that make them, look cute and unique in front of other wedding guests. It is a short and loose dress type and you can either go with the sleeved one or sleeveless. But you cannot find them longer than the knee length.
There are so many color choices in the flapper and they also come in different patterns. But while picking the flapper type you should go with the accessories that go well with your costume.
Lounge suit
The men can prefer the lounge suit which will be the perfect outfit for the Gatsby themed wedding party. It is a kind of 20s party style outfit, you can choose the slim fit suit because they are popular ones in the period of the 1920s. If you prefer you can also wear a black tie with your lounge suit.

Geezers
Geezers are the second option for the men's outfit and it gets famous by the James bond and Leonardo DiCaprio. When you wearing it accessorize yourself with the related one so that you can get a handsome look.
Final words
Choosing the Gatsby wedding guest dress is all about your opinion, but before going with one browse more ideas on the internet.